Uncategorized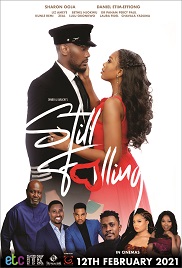 Date: 12 Feb. 2021
Synopsis: STILL FALLING is the story of BONO KUKU & CAPT LAGI GOWON, two strong characters and how they collide and are permanently changed in the events that ensue, after a re-union that brings back memories of a toxic post. Woven into their lives are the friends and loved ones who can try to make the best out of a sticky situation. Whether they succeed or fail is up to Fate.
This story of opposites love and hate, faith and doubt, grace and guts, triumphs and regrets will get everyone taking a deeper look at their motives and choices.
How much is hidden behind painted doors? Can we truly know someone? Are we as steady in faith as we think we are or are we STILL FALLING?