Uncategorized
My London Slave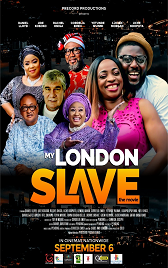 Date:  06 September 2019
Starring:Daniel Lloyd, Rachel Oniga, Jide Kosoko, Ademola Amoo, Uche Odoputa, Cordelia Emeh, Toyin Moore, Dapo Opayinka , Charles Efe Lawson, Flavia Apio , Grace Echeta , Iffy Chukwu, Làbáké Làbáké, Funmi Ogidan Bello, Lucien Morgan, Yetunde Wunmi, Jacqui Shaw, Neli Kings, Gbemi Kehinde, Christiana Tome, Julia Adaeze Ogokeh, Lucy Edako ,Nicki Moore, Jennifer Alali Brown, Gafar Babatunde, Ayan De First and Oduduwa, Funmi Layo Andare, Tiya Odebode.
Synopsis: "MY LONDON SLAVE" Tells a Thrilling story of Ada, a medical doctor in the UK trapped in a sham marriage. Meet her best friend Tolu from a wealthy family living with her brother and both permanently settled in London and the Culprit Raymond who is a rich spoilt and lazy brat who never worked a day in his life.
Watch the twist and turns as the movie addresses the endemic epidemic situation of relationships in diaspora, captive wife slaves from Africa, married to men based in the western countries with the "I live abroad" dream (My London Slave ).