Uncategorized
HOUSE OF TALENTS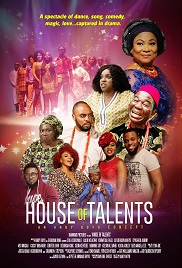 Date: 30 August 2019
Starring:    SOLA SHOBOWALE, KALU IKEAGWU, LIZ BENSON, AYO MOGAJI, CHIWETALU AGU,RYKARDO AGBOR, KOKO ASHELY, KELVIN K DAVID, DOMINIC JAY AND MANY MORE.

Synopsis: The dream of two namesake teenagers "Jay and Jay jr." is to prove to their bitterly warring parents who do not share their dream that they have the talent to win the local "House of talents" competition. They are also both coincidentally in love with the same girl Bisiola. But she is already betrothed to Taju a rich, illiterate businessman, her mother's best friend's son. Bisiola's mother based on this love triangle rivalry between Jay, Jay jr. and Taju gives the condition that they must fulfilled in order to win the hand of Bisiola. What will be the outcome of the bitter war between the rival teenagers' parents? Who will end up winning Bisola's hand? How will the rival teenagers fare in the
"House of talents" competition?